GWENDOLYN STEWART
People, Places, & Politics
Gwendolyn Stewart is a widely published photojournalist.
Some of her subjects include:
"VICTORY! 70 Years": Moscow Celebrates the End of World War II in Europe
JAMES A. BAKER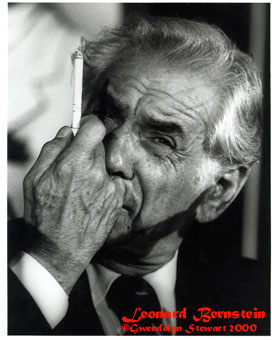 LEONARD BERNSTEIN THE BIG DIG BILL BRADLEY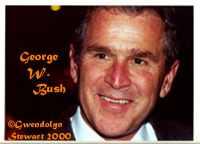 GEORGE W. BUSH JIMMY CARTER
BILL CLINTON HILLARY CLINTON HOWARD DEAN JOHN EDWARDS GAO XINGJIAN MIKHAIL GORBACHEV HU JINTAO
JIANG ZEMIN JANIS JOPLIN KATRINA JOHN KERRY DMITRY MEDVEDEV

BARACK OBAMA TIP O'NEILL RICHARD PERLE
PERU THE PHOENIX PICTURE POLITICS THE POWER HUG THE POWER OF PHOTOGRAPHS TO LINGER IN THE MIND
VLADIMIR PUTIN RONALD REAGAN THE RUSSIA HAND RUSSIA REDUX SAKHALIN FREDERICK SALVUCCI
ANNE SEXTON JOHN UPDIKE DAN WAKEFIELD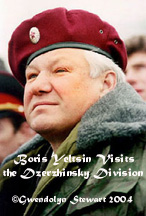 BORIS YELTSIN YELTSIN'S MIDNIGHT DIARIES
SUNSET ON THE RIVER YAN Two Hundred Fifty Posts and Counting
THE FIRST OF THE KENNEDY-NIXON DEBATES Three Hundred Twenty-Five Posts and Counting
"POWER HUG" Four Hundred Posts and Counting
THREE GUYS HANGING OUT, CANTON (GUANGZHOU), CHINA, 1981 Four Hundred Eighty-Eight Posts and Counting
MARSHAL KUTUZOV & WAR & PEACE Five Hundred Posts and Counting
BACK TO THE BEGINNING One Thousand Posts and Counting
RUSSIA REDUX: THE YELTSIN FILES
* * * *
GWENDOLYN STEWART is also a political scientist specializing in political leadership in Russia, China, and the U.S. A former Bunting Fellow (Radcliffe), she is an Associate (and former Post-Doctoral Fellow) of the Davis Center for Russian and Eurasian Studies at Harvard and an Associate in Research of the Harvard Fairbank Center for Chinese Studies. For the Fairbank Center she co-founded and co-chaired the China Current Events Workshop, which examines pressing issues in Greater China. Her Harvard Ph.D. dissertation (Sic Transit) dealt with the role of the leaders of the republics, especially Boris Yeltsin, in the breakup of the Soviet Union. She is currently writing RUSSIA REDUX, the story of Russia under Yeltsin and Putin: part political analysis, part travel-memoir. Imagine wandering over the largest country on earth, not in the train of a railroad, but in the train of one of the most powerful and contradictory men on earth. Or all by yourself.
POLITICS & PLACES
HANDWRITTEN NOTE FROM TIP O'NEILL TO GWENDOLYN STEWART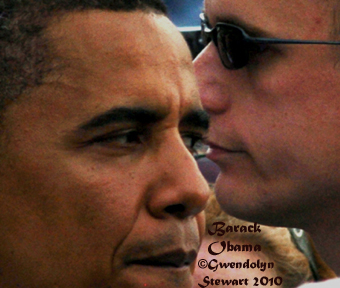 BARACK OBAMA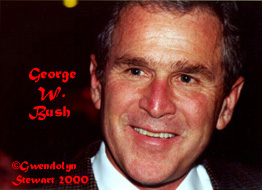 AN ONGOING ACCOUNT OF THE PRESIDENCY OF GEORGE W. BUSH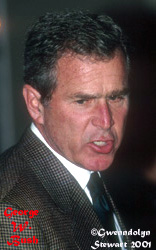 Photographs of George W. Bush c. Gwendolyn Stewart 2014; All Rights Reserved.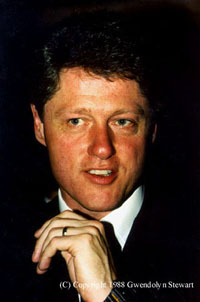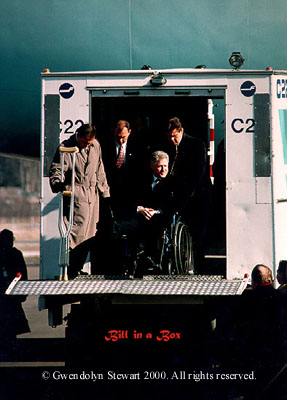 *PHOTOGRAPHS OF BILL CLINTON 1988 & 1997; c. GWENDOLYN STEWART 2014; All Rights Reserved.
Arkansas Governor Bill Clinton suddenly burst onto the national scene at the 1988 Democratic National Convention in Atlanta with an agonizingly long speech, which sent him scrambling to the Tonight Show to poke fun at himself afterwards. It was the first sign of the Comeback Kid to come.
In March 1997 President Clinton was riding high, and Boris Yeltsin was down, way down, after multiple-bypass heart surgery. Eager to press his advantage on NATO enlargement, Bill Clinton very kindly allowed his summit with Yeltsin to be held in Helsinki, to make traveling easier for the Russian president. But it was Clinton who had to suffer being delivered from Air Force One by a Finn Air catering truck (he had injured himself coming down golfer Greg Norman's stairs in the dark, it was reported). Boris Yeltsin triumphantly descended from his new presidential jet under his own power. He did, nonetheless, however reluctantly, acquiesce in NATO enlargement. MORE ON BILL CLINTON AND RUSSIA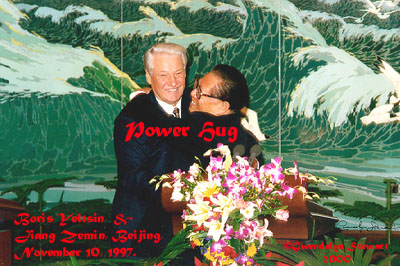 "POWER HUG": BORIS YELTSIN MEETS JIANG ZEMIN in Beijing on November 10, 1997.
Photograph c. Gwendolyn Stewart 2014.
*THE PHOENIX: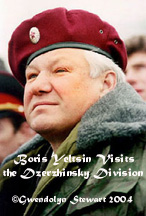 YELTSIN AND THE FUTURE OF RUSSIAN LEADERSHIP, by Gwendolyn Stewart, HARVARD INTERNATIONAL REVIEW, Volume 21, Issue 1 ("PERSPECTIVES")
Imagine wandering over the largest country on earth, not in the train of a railroad, but in the train of one of the most powerful and contradictory men on earth. Or all by yourself. RUSSIA REDUX: PROLOGUE (Illustrated):
Boris Yeltsin strides out of the 28th Party Congress, and out of the Communist Party forever, and you are there. RUSSIA REDUX: Chapter One: PIVOT(Illustrated)
Sakhalin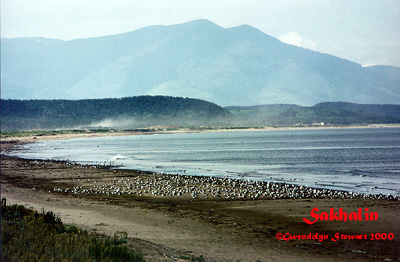 is an island province so far east in Russia that it is just north of Japan. Indeed, the two countries are still fighting for final possession of the southern Kurils ("Northern Territories"), one of the prizes of Sakhalin, along with oil and gas, fish and timber. Boris Yeltsin, like Anton Chekhov before him, comes to make a tour. RUSSIA REDUX: Chapter Two: THE PEOPLE'S CHOICE (Sakhalin Island) (Illustrated)
Moscow & the GULF WAR: RUSSIA REDUX: Chapter Three (Excerpt)
"US Primaries: Body language speaks"
By Jurek Martin in Washington, FINANCIAL TIMES, Wednesday, January 19, 2000
"When the race was over and Mr Bradley had won with room to spare, Gwendolyn Stewart, a news magazine photographer assigned to cover the campaign, put on a private slide show. It featured hundreds of pictures on a split screen of both men doing all the things candidates must do.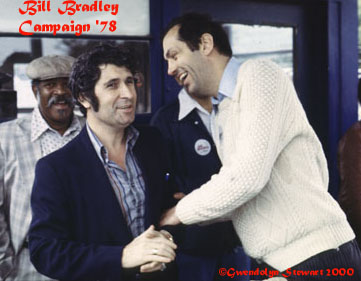 "It was an instructive exercise. On one side stood Mr Bradley, the athlete, pressing the flesh with enthusiasm, leaning into people, embracing them, eye-balling them and apparently totally at ease. On the other stood Mr Bell, the backroom boy, keeping those he met at arm's length, apparently repelling human contact, and distaste for the process oozing, albeit unconsciously, out of every pore." For the full article: BODY LANGUAGE
BEYOND POLITICS: THE POWER OF PHOTOGRAPHS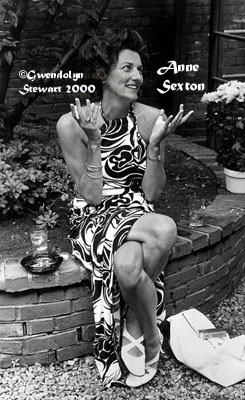 This photograph to me captures Anne's duality, and argues against reducing her to her death.
Cover the top part of the picture; look at the legs tortuously twisted together. It is well known that she made a number of attempts to kill herself. Now cover the bottom half of the photograph, and look at the arms and radiant face. She told me she always felt joyous when she was rescued from those attempts. There was of course no final rescue, but I am not convinced that she "really" meant this suicide attempt, that she would not have welcomed another rescue. -- Gwendolyn Stewart
MORE ON ANNE AND ON THE PHOTOGRAPH (THE COVER PHOTOGRAPH ON ANNE SEXTON, THE BIOGRAPHY)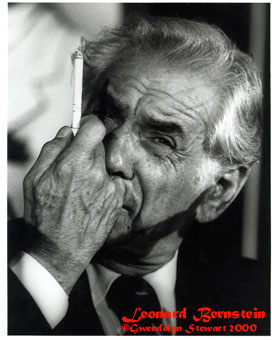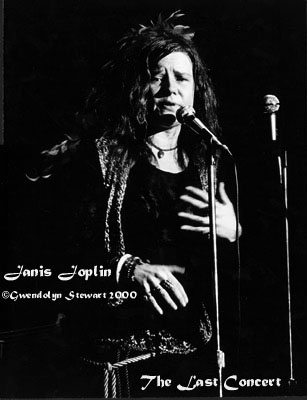 Leonard Bernstein at a press conference in Washington, D.C., and Janis Joplin at her last concert, at Harvard Stadium in Boston

Photographs by Gwendolyn Stewart c. 2021

MORE ABOUT JANIS JOPLIN

MORE ABOUT THE BACKGROUND PHOTOGRAPH ON THIS PAGE

THE AUTHOR-PHOTOGRAPHER IN THE FIELD

COMMENTS & INQUIRIES TO:

GWENDOLYN STEWART

© Copyright 2021 Gwendolyn Stewart. All rights reserved.