JANIS JOPLIN
January 19, 1943 - October 4, 1970
by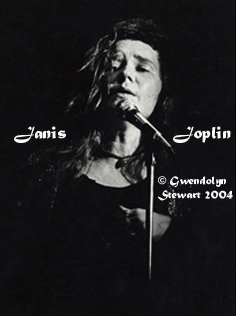 JANIS JOPLIN AT HER LAST CONCERT, AT HARVARD STADIUM IN BOSTON
PHOTOGRAPH c. GWENDOLYN STEWART 2014
JANIS JOPLIN was coming to Harvard. For a concert. August 12, 1970. Only ten thousand lucky fans were to be allowed in.
A suitable part of Harvard Stadium was roped off.
But forty thousand, it was estimated, showed up.

They kept coming, coming, over the walls of the stadium. Janis Joplin cowered in the trailer set up for her on the stadium grounds.
This was to be her last concert. Janis Joplin was twenty-seven years old. In fifty-three days she would be dead.
[To be continued....]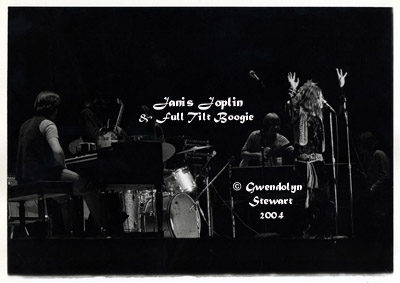 JANIS JOPLIN & FULL TILT BOOGIE, HARVARD STADIUM CONCERT

PHOTOGRAPH c. GWENDOLYN STEWART 2014
FESTIVAL EXPRESS: New Film of Old Concert Tour from Joplin's Last Year
"Fans of Janis Joplin in particular will swoon to the sight of her, scarred by acne and worn by booze but beautiful all the same, giving full-throated roar to 'Cry Baby' and 'Tell Mama,' both of which are presented in their entirety." -- Peter Howell, "Wild Ride with Janis and Friends," Toronto STAR, July 30, 2004.
"Filmed only two months before Joplin's death, the sequences involving her are truly electrifying and capture her at the height of her self-consuming talent. On fire in a way she was not in 'Monterey Pop,' the only other sustained record of a Joplin performance, she gives all that she has and then some to renditions of 'Cry Baby,' 'Tell Mama' and 'Me and Bobby McGee.' Some blues singers pour their heart out. Joplin tore hers out with both hands." -- David Kehr, "Film Review; A Legendary Train Ride Through Rock's Fabled Past," New York Times, July 30, 2004.
"Although the film ['Festival Express'] boasts outstanding performances by the Grateful Dead and the Band at their creative peaks, it is the footage of Joplin, three months before her death, that delivers the goose bumps. Her monologue in the middle of a ripping 'Cry Baby,' where she talks about the men in her life always going off to find themselves 'in Casablanca or somewhere like that,' brilliantly captures the extraordinary Joplin character in all her self-effacing glory and is the only piece of film footage like that ever to have surfaced." -- Joel Selvin, "Rare Footage of Joplin Helps Give 'Lost' Concert Film Its Nostalgic Thrill," San Francisco CHRONICLE, July 23, 2004.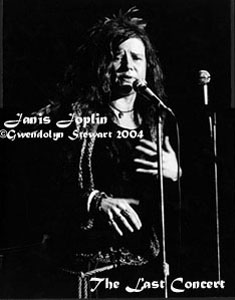 "CRY, BABY"
PHOTOGRAPH c. GWENDOLYN STEWART 2014
Joel Selvin describes Janis Joplin as "dressed in high hippie funky chic," "trailing red and fuchsia boas in her hair"
-- as in the photographs above, taken at her last concert of all, little more than a month after the "Festival Express."
Full Tilt Boogie Pianist RICHARD BELL has died (June 15, 2007);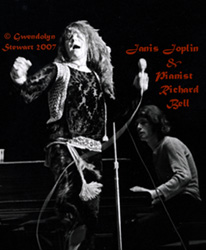 ;
pictured here at the piano with Janis Joplin at the Harvard Stadium concert.
PHOTOGRAPH c. GWENDOLYN STEWART 2014
* * *ANOTHER PHOTOGRAPH OF JANIS FROM THE LAST CONCERT* * *
THE OFFICIAL JANIS JOPLIN WEB SITE
THE OFFICIAL JANIS JOPLIN WEB SITE FORUM & THE LAST CONCERT
* * * *
GWENDOLYN STEWART is both a photojournalist and a political scientist specializing in political leadership in Russia, China, and the U.S. A former Bunting/Radcliffe Fellow, she is an Associate (and former Post-Doctoral Fellow) of the Davis Center for Russian Studies and Central Eurasian Studies at Harvard, as well as an Associate in Research of the Harvard Fairbank Center for Chinese Studies. For the Fairbank Center she co-founded and co-chairs the China Current Events Workshop, a forum for examining pressing issues in Greater China. Her Harvard Ph.D. dissertation (SicTransit) dealt with the role of the leaders of the republics, especially Boris Yeltsin, in the breakup of the Soviet Union. She is currently writing RUSSIA REDUX, the story of Russia under Yeltsin and Putin: part political analysis, part travel-memoir. Imagine wandering over the largest country on earth, not in the train of a railroad, but in the train of one of the most powerful and contradictory men on earth. Or all by yourself.
* * * *
* * * *
* * * *
In The Works:
A book based on the Harvard exhibit of a quarter-century of the photography of Gwendolyn Stewart entitled "HERE BE GIANTS."
* * * *
Other Work by GWENDOLYN STEWART
JAMES A. BAKER LEONARD BERNSTEIN THE BIG DIG BILL BRADLEY GEORGE W. BUSH
BILL CLINTON GAO XINGJIAN MIKHAIL GORBACHEV JIANG ZEMIN
BARACK OBAMA TIP O'NEILL &nbsp RICHARD PERLE PERU THE PHOENIX THE POWER HUG
VLADIMIR PUTIN RONALD REAGAN THE RUSSIA HAND RUSSIA REDUX SAKHALIN FREDERICK SALVUCCI
ANNE SEXTON JOHN UPDIKE DAN WAKEFIELD BORIS YELTSIN YELTSIN'S MIDNIGHT DIARIES
GWENDOLYN STEWART: MORE PHOTOGRAPHS & MORE ABOUT THE AUTHOR/PHOTOGRAPHER
YOUR COMMENTS & INQUIRIES WELCOMED
PLEASE CONTACT: GWENDOLYN STEWART
© Copyright 2015 Gwendolyn Stewart. All Rights Reserved.