TIP O'NEILL
by
Thomas P. O'Neill, Jr. (D-Mass.)
Speaker of the U.S. House of Representatives
1977-1987
December 9, 1912 - January 5, 1994
Most quoted saying: "ALL POLITICS IS LOCAL."
Often heard to say:
"He who don't toot his own horn,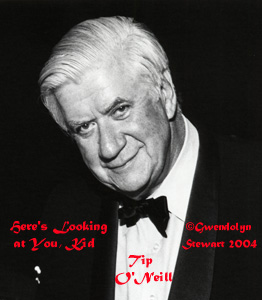 Don't get his own horn tooted."
Photograph of TIP O'NEILL by GWENDOLYN STEWART © 2014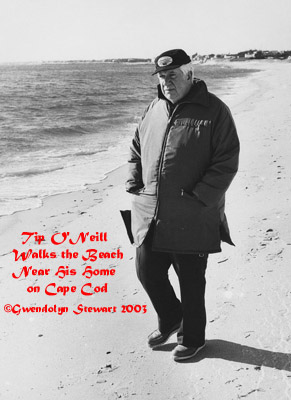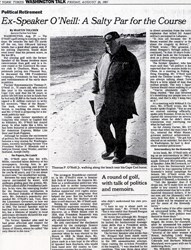 THOMAS P. "TIP" O'NEILL, JR.
Walking the Beach near His Home on Cape Cod
Photograph by Gwendolyn Stewart ©2014
Published in the August 28, 1987, New York TIMES
Thomas P. O'Neill, Jr., known as "Tip" to nearly everyone (but not to his wife, Millie, to whom he was "Tom"), was very much a man of North Cambridge, born and bred. He famously never forgot where he came from. But he also came to love Cape Cod. His work on behalf of the Cape Cod National Seashore was one of his proudest achievements.
THE TIP O'NEILL EXHIBIT AT BOSTON COLLEGE
Featuring Seven Photographs of Speaker O'Neill By Gwendolyn Stewart, including: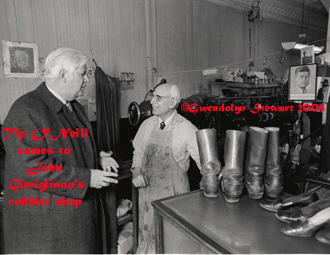 TIP O'NEILL COMES TO JOHN GIMIGLIANO'S COBBLER SHOP, NORTH CAMBRIDGE, MASSACHUSETTS (photograph © GWENDOLYN STEWART 2014)
HANDWRITTEN NOTE FROM TIP O'NEILL TO GWENDOLYN STEWART
More about politics in PICTURE POLITICS
TIME MAGAZINE COVER PAINTED FROM A PHOTOGRAPH OF TIP O'NEILL BY GWENDOLYN STEWART
TIP O'NEILL FEEDS THE BIRDS NEAR HIS HOME ON CAPE COD
TIP O'NEILL STROLLS THE CAPE NEAR HIS HOME
SHORT OFFICIAL BIOGRAPHY OF TIP O'NEILL
MEDAL OF FREEDOM (1991) CITATION
Other Work by Gwendolyn Stewart:
TIP O'NEILL REFLECTS ON THE ELECTION OF JOHN F. KENNEDY
THE BIG DIG/FREDERICK SALVUCCI
BORIS YELTSIN: Another Big Politician Who Knew That All Politics Is Local
* * * *
* * * *
* * * *
BILL & BORIS & VLADIMIR & GEORGE & Strobe Talbott's THE RUSSIA HAND: AMERICA'S RUSSIA POLICY
THE POWER HUG
THE PHOENIX: YELTSIN & THE FUTURE OF RUSSIAN LEADERSHIP
GAO XINGJIAN: CHINA'S FIRST NOBEL LAUREATE IN LITERATURE
GWENDOLYN STEWART: MORE PHOTOGRAPHS & MORE ABOUT THE PHOTOGRAPHER
* * * *
An exhibition of a quarter-century of the photography of Gwendolyn Stewart
entitled "HERE BE GIANTS" was held at Harvard.
Coming: HERE BE GIANTS the book.
* * * *
GWENDOLYN STEWART is both a photojournalist and a political scientist specializing in political leadership in Russia, China, and the U.S. A former Bunting/Radcliffe Fellow, she is an Associate (and former Post-Doctoral Fellow) of the Davis Center for Russian and Eurasian Studies at Harvard, as well as an Associate in Research of the Harvard Fairbank Center for Chinese Studies. For the Fairbank Center she co-founded and co-chairs the China Current Events Workshop, a forum for examining pressing issues in Greater China. Her Harvard Ph.D. dissertation (Sic Transit) dealt with the role of the leaders of the republics, especially Boris Yeltsin, in the breakup of the Soviet Union. She is currently writing RUSSIA REDUX, the story of Russia under Yeltsin and Putin: part political analysis, part travel-memoir. Imagine wandering over the largest country on earth, not in the train of a railroad, but in the train of one of the most powerful and contradictory men on earth. Or all by yourself.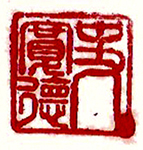 YOUR COMMENTS & INQUIRIES WELCOMED
PLEASE CONTACT: TPO@gwendolynstewart.com
© Copyright 2021 Gwendolyn Stewart. All Rights Reserved.