BILL & BORIS
&
VLADIMIR & GEORGE
AMERICA'S RUSSIA POLICY
by
GWENDOLYN STEWART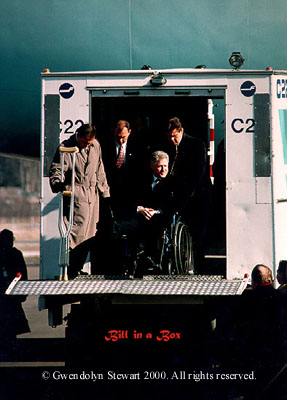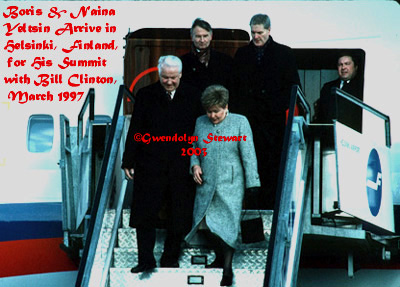 BILL CLINTON AND BORIS & NAINA YELTSIN ARRIVE FOR THEIR SUMMIT IN HELSINKI, FINLAND, MARCH 1997
Photographs by GWENDOLYN STEWART c. 2014
THE RUSSIA HAND, by STROBE TALBOTT

Random House, 478 pp., illustrated; now in paperback

Reviewed by Gwendolyn Stewart

"A Memoir of Presidential Diplomacy" is the subtitle of The Russia Hand, but it is Strobe Talbott and not Bill Clinton, his fellow Rhodes Scholar and Oxford housemate, who tells this story. It is Talbott the long-time correspondent and columnist for Time magazine who has written it fast and well and delivered it first.
For eight years Talbott was the president's chief Russia expert. Twenty times Bill Clinton met with Boris Yeltsin before his presidency was over, and a half-dozen with Vladimir Putin. It is on these encounters and the preparations for them that Talbott hangs his tale.
In the beginning, in June 1992, Clinton came to Yeltsin as a supplicant, seeking a stature-enhancing audience with the Russian president, then having his most publicly successful U.S. trip. Although the Arkansas governor was trailing both George Bush and Ross Perot in the polls, Yeltsin obliged him. After that, it was Clinton in the catbird seat all the way -- until 2000, when Vladimir Putin, ever so politely, treated his American counterpart as the late lame duck he was.
Talbott's fascinating account of the years in between reads like one crisis after another -- at least, on the Russian side. From the start of Clinton's administration, "Ol' Boris" was, according to "Friend Bill," "up to his ass in alligators." At that point, one year after the end of the Soviet Union, the contradictions inherent in its peaceful but potentially revolutionary breakup were starting to boil. Again and again Yeltsin was to find himself in "the fight of his life," from the time he was nearly impeached three months after Clinton took office until he abruptly resigned December 31, 1999. The Americans were there, holding Yeltsin's hand, counting his drinks, and contriving to use his weaknesses to drive a better bargain -- but Yeltsin had his own ideas.
Yeltsin's ploys and his foibles dominate these pages. He conducts diplomacy by striking poses, especially in public, including the "public" of enlarged summit sessions, but getting down to business in "private" with his American counterpart. What he wanted from Clinton was both practical: money, especially in the beginning and during the financial crisis of 1998 which led to default and devaluation, and symbolic: American recognition and validation. He wanted an early visit by Clinton to Moscow (denied him for a year) and Russian membership in the G-8 (put off until 1998). He also wanted some consideration for Russia's post-superpower position, especially in the face of American preaching -- on Chechnya, on weapons sales, on the Baltics and India and Iran and Ukraine and on and on.
Clinton, as Talbott tells it, maintained a steady resolve to help Russia, and to help Yeltsin as Russia's democratically elected president. Clinton is the "Russia hand" of Talbott's title, in spite of Talbott's superior long expertise in the field (he was the precocious editor and translator of Nikita Khrushchev's memoirs). Before his presidency, Clinton's claims extended to no more than an Oxford essay on the possibilities of political reform in the USSR and an early trip to the country.
But in office it was Clinton who grasped the essential nature of his interlocutor, the Russian president into whose shoes he could almost literally step. What gave Clinton his insights into Yeltsin's "presidential diplomacy" was part childhood experience with an alcoholic stepfather, part empathy, and part general political smarts. When his subordinates -- and the media -- took alarm over the latest Russian tactic, it was Clinton who saw it as the attempt to make the best of a weak hand. By the 1999 G-8 summit in Cologne, Yeltsin's last, the hot question in the press tent was "Is the Cold War still over?" Just because Russian paratroopers had made a mad dash to be first at the Pristina airport! And after the Russians had made a real contribution to the ending of the Kosovo crisis, with former Prime Minister Viktor Chernomyrdin and Finland's Martti Ahtisaari double-teaming Milosevic.
Clinton saw himself as a "tomorrow guy" stuck with managing leftovers from yesterday's agenda of arms control; he wanted more. He fussed at Talbott to devise a catchy slogan for the new era -- with no more scintillating result than the proclamation of a new, integrated "security architecture." Yeltsin counterproposed that all European countries, including Russia, be "integrated" at the same time; he was rebuffed.
The Clinton administration's agenda provided for much friction with Moscow. NATO enlargement and "humanitarian" intervention, most pointedly in the Balkans, shaped and even warped the bilateral relationship. So did the encirclement of Russia in the Caspian and the Caucasus. Moscow was not to be allowed to even think of having its own Monroe Doctrine for its "backyard." The manner in which the U.S. under Clinton, while proclaiming its friendship and "aid" (monetarily, mostly loans) steadily sought a new containment of Russia, did not go unnoticed by the foreign policy elite in Moscow. Talbott allows some of the pithiest criticisms of his administration's policy to surface in quotations from the Russians, but leaves them basically unanswered: "As your friend, we constantly have to hear you saying to us that we must love all the girls you love and hate all the boys you hate." "Don't add insult to injury by also telling us that it's in our interests to obey your orders."
There is a certain sleight of hand in this Russia Hand. We learn much about Yeltsin's frailties and ailments, but little of Bill Clinton's, and few revealing insights into Warren Christopher and Madeleine Albright, the two secretaries of state whose chief deputy Talbott was for seven years. Policy making on the American side is left more of a black box than such an apparently candid report would seem to promise. We are left to guess about the real reasons behind the push for NATO expansion. We hear of the Polish and Czech presidents lobbying Clinton for it at a memorable meeting at the Holocaust Museum opening. We get hints of pressure from Polish-Americans on NATO, and from Israel on Russia's dealings with Iran, but no persuasive systematic analysis. Talbott points out the hollowness of George Bush's unfulfilled promise of twenty-some billion dollars in aid, but nowhere provides an accounting in hard numbers of his own administration's contributions, unquestionably larger as they are.
The second Bush team criticized Clinton for personalizing his relationship with Yeltsin, only to find their own president rhapsodizing on Putin's soul. George W. Bush in office frequently speaks as though he had inherited his father's -- or Ronald Reagan's -- relationship with the USSR. Talbott reminds us of the difficult and potentially dangerous time in between the two Bushes'. In observations and anecdotes that are sharp and telling, he gives us much of the remarkable human story of the Washington-Moscow connection in the era of Clinton and Yeltsin. However many more such memoirs may appear, The Russia Hand is likely to remain a must-read. ###
Copyright 2014 Gwendolyn Stewart. All rights reserved.
GWENDOLYN STEWART is a political scientist specializing in political leadership in Russia, China, and the U.S., as well as a photojournalist. An exhibit of a quarter-century of her work entitled "HERE BE GIANTS" has was held at Harvard. A former Bunting Fellow, she is an Associate (and former Post-Doctoral Fellow) of the Davis Center for Russian and Eurasian Studies at Harvard, as well as an Associate in Research of the Harvard Fairbank Center for Chinese Studies. For the Fairbank Center she co-founded and co-chairs the China Current Events Workshop, a forum for examining pressing issues in Greater China. Her Harvard Ph.D. dissertation (Sic Transit) dealt with the role of the leaders of the republics, especially Boris Yeltsin, in the breakup of the Soviet Union. She is currently writing RUSSIA REDUX, the story of Russia under Yeltsin and Putin, part political analysis, part travel-memoir: Imagine wandering over the largest country on earth, not in the train of a railroad, but in the train of one of the most powerful and contradictory men on earth. Or all by yourself.
MORE WORK BY GWENDOLYN STEWART
JAMES A. BAKER LEONARD BERNSTEIN THE BIG DIG BILL BRADLEY GEORGE W. BUSH JIMMY CARTER BILL CLINTON
GAO XINGJIAN MIKHAIL GORBACHEV JIANG ZEMIN &nbsp JANIS JOPLIN BARACK OBAMA TIP O'NEILL
RICHARD PERLE THE PHOENIX THE POWER HUG VLADIMIR PUTIN RONALD REAGAN
SAKHALIN FREDERICK SALVUCCI ANNE SEXTON JOHN UPDIKE DAN WAKEFIELD
BORIS YELTSIN YELTSIN'S MIDNIGHT DIARIES
© Copyright 2014 Gwendolyn Stewart. All Rights Reserved.