LEONARD BERNSTEIN
August 25, 1918 - October 14, 1990
by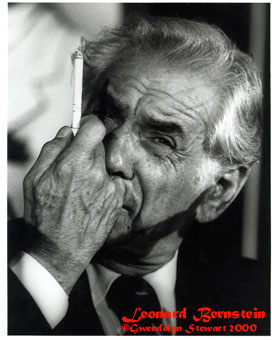 LEONARD BERNSTEIN AT A PRESS CONFERENCE IN WASHINGTON, D.C.

PHOTOGRAPH © GWENDOLYN STEWART 2013
LEONARD BERNSTEIN and the current revival of WEST SIDE STORY on Broadway
The centrality of Bernstein: see, for example, Elysa Gardner, USA Today: "The tale of a doomed romance between the sister of a Puerto Rican gang leader and the co-founder of a posse of all-American hoodlums was pretty hot stuff when West Side Story opened on Broadway in 1957. But the key to its visceral power has always been Leonard Bernstein's score, a spine-tingling olio of jazz, Latin and classical textures and rapturous melodies that reveal as much about Tony and Maria's feelings as the wonder-struck lyrics provided by a very young Stephen Sondheim."
THE OFFICIAL LEONARD BERNSTEIN SITE
RECOMMENDED READING: The memoir by Burton Bernstein, New Yorker writer (and brother), partly
loyally reticent, but profoundly revelatory of FAMILY MATTERS (New York: Simon & Schuster © 1982).
A wonderful collection of memories of Leonard Bernstein, including video clips from Burton Bernstein -- and from the BERNSTEIN KIDS
GWENDOLYN STEWART is both a photojournalist and a political scientist specializing in
political leadership in Russia, China, and the U.S. A former Bunting/Radcliffe Fellow, she
is an Associate (and former Post-Doctoral Fellow) of the Davis Center for Russian and Central
Eurasian Studies at Harvard, as well as an Associate in Research of the Harvard Fairbank
Center for Chinese Studies. For the Fairbank Center she co-founded and co-chairs the China
Current Events Workshop, a forum for examining pressing issues in Greater China. Her Harvard
Ph.D. dissertation (Sic Transit) dealt with the role of the leaders of the republics, especially
Boris Yeltsin, in the breakup of the Soviet Union. She is currently writing RUSSIA REDUX,
the story of Russia under Yeltsin and Putin, part political analysis, part travel-memoir.
Imagine wandering over the largest country on earth, not in the train of a railroad, but
in the train of one of the most powerful and contradictory men on earth. Or all by yourself.
GWENDOLYN STEWART"CENTER">
* * * *
* * * *
* * * *
* * * *
* * * *
* * * *
JAMES A. BAKER III THE BIG DIG BILL BRADLEY GEORGE W. BUSH
BILL CLINTON GAO XINGJIAN MIKHAIL GORBACHEV HU JINTAO JIANG ZEMIN JANIS JOPLIN
BARACK OBAMA TIP O'NEILL &nbsp RICHARD PERLE PERU &nbspTHE PHOENIX THE POWER HUG
VLADIMIR PUTIN RONALD REAGAN THE RUSSIA HAND SAKHALIN FREDERICK SALVUCCI
ANNE SEXTON JOHN UPDIKE DAN WAKEFIELD BORIS YELTSIN YELTSIN'S MIDNIGHT DIARIES
GWENDOLYN STEWART: MORE PHOTOGRAPHS & STORIES BY GWENDOLYN STEWART
YOUR COMMENTS & INQUIRIES WELCOMED
PLEASE CONTACT: GWENDOLYN STEWART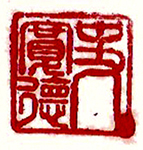 © Copyright 2013 Gwendolyn Stewart. All Rights Reserved.