November 22, 2013: Gone, but not forgotten, it seems clear. It is fifty years today since U.S. President John Fitzgerald Kennedy (b. May 29, 1917) was assassinated.
November 1, 2013: The statue of Barack (Barry) Obama as a boy at one of his elementary schools in Jakarta, Indonesia, has a butterfly perched on his left hand and a surveillance camera above his head.
October 28, 2013: A vehicle identified by some as a Jeep drove through the barriers in front of the Forbidden City in Beijing and crashed and burned, killing the three occupants and injuring pedestrians and security personnel today. Whether or not this was an accident is yet to be determined. I have been a pedestrian there myself.
October 7, 2013: With the U.S. President Barack Obama a no-show, Chinese President Xi Jinping is center stage at the 2013 APEC Summit in Bali, Indonesia.
October 6, 2013: Indonesian President Susilo Bambang Yudhoyono hosts the 2013 APEC Summit in Bali, Indonesia; the handover to China is symbolized at the Gala.
October 6-7, 2013: The "Kul Kul Night & Dance Performance" is dress-rehearsed and then performed at the APEC Summit in Bali, Indonesia. (More on Indonesia here.)
October 2, 2013: The 2013 APEC Summit is opening in Bali, Indonesia.
November 15, 2012: The Standing Committee of the Politburo of the Chinese Communist Party is announced in the East Hall of the Great Hall of the People in Beijing. Newly confirmed General Secretary Xi Jinping makes an address; takes no questions. The English text of the speech is here.
November 8-9, 2012: On the first day of the 18th Congress of the Communist Party of China, Hu Jintao, the outgoing General Secretary, reads the Report ("FIRMLY MARCH ON THE PATH OF SOCIALISM WITH CHINESE CHARACTERISTICS AND STRIVE TO COMPLETE THE BUILDING OF A MODERATELY PROSPEROUS SOCIETY IN ALL RESPECTS") from the podium of the Assembly Hall of the Great Hall of the People in Beijing, surrounded by flowers. Outside on Tiananmen Square the next night, floodlights pick out a fantasia of flowers celebrating the "Shiba Da," the "18 Big" Congress.
November 8, 2012: At the start of the 18th Congress of the Communist Party of China, Hu Jintao, the current but soon to be former General Secretary of the Party, and Jiang Zemin, the former General Secretary, stand applauding, above.
When he came forward to begin his Report to the 18th Congress, General Secretary Hu Jintao first bowed to the assembled delegates in front of him; others of his comrades on the dais applauded, but not former General Secretary Jiang Zemin (sixth from the left). When Hu repeated his bow, this time towards the dais and specifically in the direction of his predecessor, Jiang gave him his applause.
Hu Jintao is in the foreground, bowing, in both photographs; left to right on the dais: Li Peng, He Guoqiang, Xi Jinping, Jia Qinglin, Wu Bangguo, Jiang Zemin, Wen Jiabao, Li Changchun, and, in the left photograph, Li Keqiang. The empty chair is Hu's.
November 6, 2012: The world media comes to Beijing for the 18th National Congress of the Communist Party of China.
October 22, 2012: In honor of the last of the three 2012 presidential debates today, a look back at the first ones televised.
September 14, 2012: Standing on the South Korean side of the Demilitarized Zone (DMZ), seeing what there is to be seen. High-power binoculars provided. For a price. No photographs allowed at the wall, or for several feet in front of it. Hold high the camera.
June 27, 2012: Author-journalist-screenwriter-director-producer Nora Ephron (b. May 19, 1941), died today. More on a project on which she was working (with Tom Hanks) when she died, here.
February 4, 2012: Slogan of the Day: "Power to the millions, not the millionaires."
November 5, 2011: Long-time CBS "60 Minutes" Commentator Andy Rooney (b. January 14, 1919), died today in the hospital to which he had gone for "minor surgery." CBS has a long appreciation here.
July 1, 2011: The party for the Party reached its grand climax in the usual grand setting in the Great Hall of the People. (For a look at the presentation of the setting of the First Congress, July 1, 1921, see the posting under July 1, 2009, below.) Yet the buzz afterwards seemed to belong to former CCP General Secretary and former PRC President Jiang Zemin, who was not there.
In 1984, then Representative Ferraro (D-New York) was the first, and until John McCain chose Sarah Palin for the Republicans in 2008, the only woman nominated to the national ticket of either major U.S. party. Ferraro and Palin were both picked as vice-presidential nominees by the men who had already clinched the top spot.
Ronald Reagan and George Bush beat Mondale and Ferraro in 1984.
Barack Obama and Joe Biden beat McCain and Palin in 2008.
None of this prevented more loose talk about glass ceilings cracking today.
And as for the presidency....
March 3, 2011: Now the authorities will be using the twenty million cell phones of Beijing to monitor all users in "real time" and "detect and prevent protests."
Most immediately striking of course is the "Never Again" quote: "in my opinion, any future defense secretary who advises the president to again send a big American land army into Asia or into the Middle East or Africa should 'have his head examined,' as General MacArthur so delicately put it."
February 19-20, 2011: On February 19, Hu Jintao, President of the People's Republic of China, and General Secretary of the Chinese Communist Party, gathered his ministers and provincial leaders together to emphasize the need to " build a socialist social management system with Chinese characteristics...." On February 20, they sent in the "troops" (police in this case).
February 15, 2011: Promises & Pretty Speeches. Oh, yes. Results? Oh, no. President Obama makes sure to cover himself with the flag (see above), but deeds matter, not just words and symbols. As to the actual results, you can find some of the reporting here and here.
Speaking as an Army brat, and a caregiver (not of one of the current Wounded Warriors; no direct personal "special interest"), I find this most unfortunate, even reprehensible, but as one who has seen Pentagon promises (and presidential promises) broken before, unfortunately not surprising.
Speaking as a political scientist and student of leadership in organizations, I can even "understand" it. There will always be another war, hot or cold, and its needs will be -- or seem -- more pressing than combat/missions five or ten or twenty or thirty or more years in the past. And then there is always the need for more military hardware just to keep up with (and surpass! even more) the Joneses or the Wangs....
But shame!
---
ZHONGNANHAI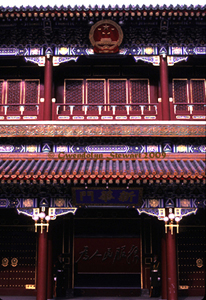 THE SEAT OF THE CHINESE AUTHORITIES

February 14, 2011: CHINA OVERTAKES JAPAN AS THE WORLD'S NUMBER TWO ECONOMY. OFFICIALLY.
---
February 1, 2011: BORIS YELTSIN WOULD HAVE BEEN EIGHTY TODAY. Somebody has apparently decided to "honor" the first president of Russia by erecting what appears to be a gargantuan statue in his hometown of Yekaterinburg, the former Sverdlovsk, of which Yeltsin used to be the Party boss. The current (and third) president, Dmitry Medvedev, did the unveiling; Yeltsin's widow, Naina, and both daughters attended. Vladimir Putin, Yeltsin's immediate successor, did not.
To see the more human side of Boris Nikolayevich, go the April 23, 2007 posting,

below. Surrounded in the former Manchuria by admiring Russians, particularly older Russian women, calling out to him enthusiastically, Yeltsin was obviously touched, and softened.
---
January 29, 2011: THE VISUAL IS VISCERAL. To get a real feel for how long HOSNI MUBARAK has been president of Egypt, see the May 14, 2009, posting

below.
---
PLACIDO DOMINGO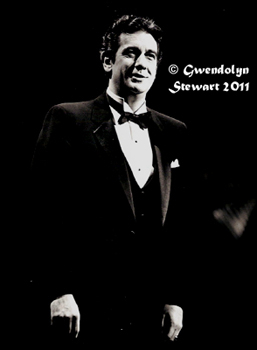 AT CONSTITUTION HALL, WASHINGTON, D.C.

January 21, 2011: BRAVO! to Placido Domingo, born January 21, 1941, and singing today in his native Madrid.
---
JOAN BAEZ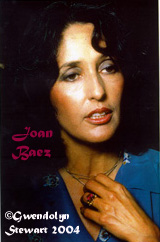 AT THE NATIONAL PRESS CLUB

January 9, 2011: Hail to Joan Baez, the "queen of folk music" -- back when that really mattered -- born January 9, 1941, twenty-eight years to the day after Richard M. Nixon. She is seen above in what now, after three-score-years-and-ten, might properly be thought of as her middle period.
---
WHAT WAS HE THINKING?
WHAT IS PUTIN THINKING?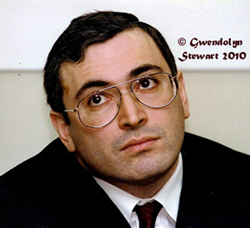 MIKHAIL KHODORKOVSKY IN HIS HEYDAY AS 'THE RICHEST MAN IN RUSSIA'

December 30, 2010: The sentences of Khodorkovsky and his "business partner," Platon Lebedev, were extended from eight to fourteen years.
---
BOSTON POPS MAESTRO ARTHUR FIEDLER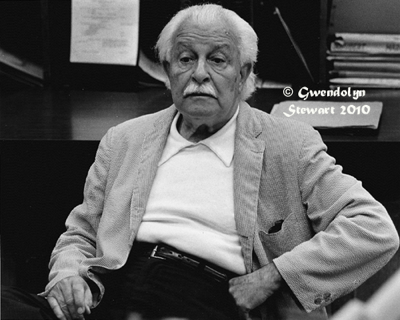 IN HIS OFFICE AT SYMPHONY HALL, BOSTON

December 17, 2010: Arthur Fiedler was born in Boston, Massachusetts, on December 17, 1894, and died at home in Brookline, Massachusetts, next door to Boston, on July 10, 1979.
These bare facts conceal a far more peripatetic and complicated existence, and so does the quick summary of his accomplishments. For over half a century he led the Boston Pops Orchestra, with enormous success and acclaim. But -- like a beauty who wishes to be known for his/her brains? -- he apparently hungered for more: acknowledgment of his musicianship and his gravitas.
His daughter, Johanna Fiedler, wrote of his story (and hers) in ARTHUR FIEDLER: Papa, the Pops and Me (1994). The New York Times in its obituary called Arthur Fiedler "grandfatherly," and said that he "projected a jolly, unsnobbish image." Perhaps so, but that there was more to him was clear already from the time I spent photographing him.
---
LARRY SUMMERS SOON TO LEAVE WASHINGTON FOR HARVARD AND BEYOND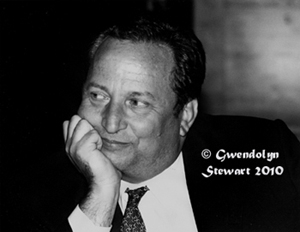 LAWRENCE H. SUMMERS AS PRESIDENT OF HARVARD

November 30, 2010: Lawrence Summers, born on this date in 1954, Director of the National Economic Council for the first two years of Barack Obama's presidency, is soon to decamp again for Harvard. For some commentary, see here.
---
CONDOLEEZZA RICE HAS A BIRTHDAY AND A BOOK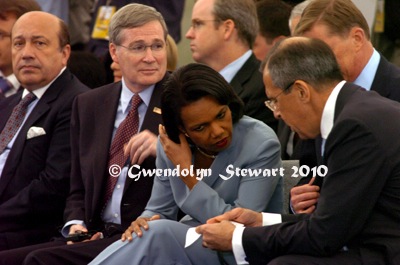 CONDOLEEZZA RICE AT THE PUTIN-BUSH PRESS CONFERENCE OF THE 2006 G-8 SUMMIT, ST. PETERSBURG, RUSSIA

November 14, 2010: Condoleezza Rice, born on this date in 1954, has written a personal memoir first, before tackling the hard issues of her time and performance as President George W. Bush's National Security Adviser and Secretary of State.
Rice, an erstwhile Soviet scholar, is shown above at the first, and so far only, G-8 summit to be held in Russia, talking to her counterpart, the Russian Foreign Minister Sergei Lavrov. To her far right is Igor Ivanov, Secretary of the Russian Security Council (national security adviser); to her immediate right is Stephen Hadley, Rice's successor as U.S. National Security Adviser. Counselor to the President Dan Bartlett sits behind the Secretary of State.
---
ANOTHER OF THE "BIG FEET" OF THE YELTSIN ERA IS GONE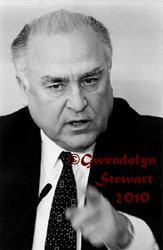 VIKTOR CHERNOMYRDIN

November 3, 2010: Former Russian Prime Minister Viktor Stepanovich Chernomyrdin (born April 9, 1938) dies. He was Boris Yeltsin's longest-serving prime minister: "We wanted better, but it turned out like always." Two appreciations, here and here.
November 5, 2010: Chernomyrdin is buried in the Novodevichy Cemetery in Moscow, "beside his wife." The AP headline: "Putin chokes back tears at Chernomyrdin's funeral."
---
TED SORENSEN DIES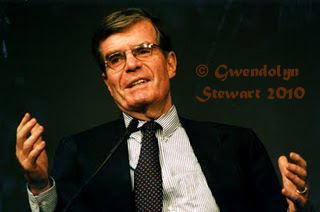 TED SORENSEN
At a Forum onTHE CUBAN MISSILE CRISIS
At the John F. Kennedy Library


October 31, 2010: Thedore C. Sorensen, speechwriter for and confidante to Senator and then President John F. Kennedy, born May 8, 1928, died today in New York. It was not long ago that he was called on once again to contribute his memories of working with Kennedy, this time in connection with the fiftieth anniversary of the Kennedy-Nixon TV debates.
---
GORBACHEV CRITICIZES SUCCESSORS NOT NAMED YELTSIN

October 27, 2010: Mikhail Gorbachev calls the ruling United Russia party, the party of the "Tandem" of President Dmitry Medvedev and Prime Minister Vladimir Putin, a "bad copy of the Soviet Communist party."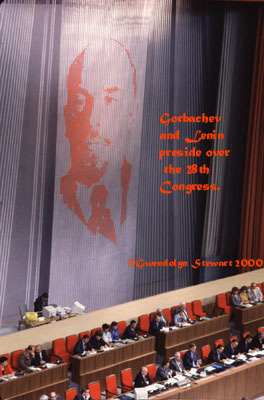 UNDER A MAMMOTH LENIN, MIKHAIL GORBACHEV PRESIDES OVER THE 28TH, AND LAST, CONGRESS OF THE "REAL" SOVIET COMMUNIST PARTY
---
PRESIDENT KENNEDY GOES ON TV FOR THE CUBAN MISSILE CRISIS

October 22, 1962: U.S. President John F. Kennedy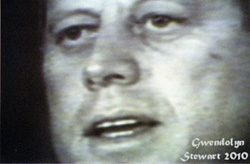 goes public with the Cuban Missile Crisis.

From the Anthony Lewis piece in the New York Times:

"Washington, Oct. 22--President Kennedy imposed a naval and air 'quarantine' tonight on the shipment of offensive military equipment to Cuba.

"In a speech of extraordinary gravity, he told the American people that the Soviet Union, contrary to promises, was building offensive missiles and bomber bases in Cuba. He said the bases could handle missiles carrying nuclear warheads up to 2,000 miles.

"Thus a critical moment in the cold war was at hand tonight. The President had decided on a direct confrontation with--and challenge to--the power of the Soviet Union."
---
JIMMY BRESLIN TURNS EIGHTY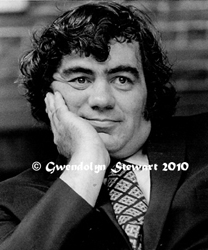 JIMMY BRESLIN AS THE HARVARD COMMENCEMENT CLASS DAY SPEAKER, 1971


Jimmy Breslin, born October 17, 1930, in 1986 won the Pulitzer Prize for Commentary. The citation lauds his "columns which consistently champion ordinary citizens."
---
JOHN UPDIKE IS ARCHIVED AT HARVARD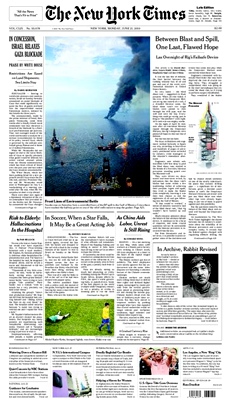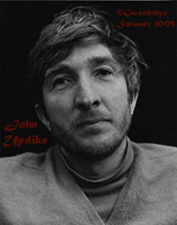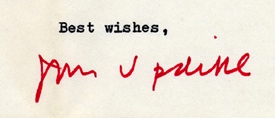 June 21, 2010: "In Archive, Rabbit Revised": &nbsp The New York Times runs a long piece by Sam Tanenhaus on John Updike's archive at Harvard. It is previewed on the front page with a photograph from that archive taken by Gwendolyn Stewart. A copy of the photograph can be seen below in the January 27, 2009, posting, with links to more Updike.

John Updike to Gwendolyn Stewart, May 25, 1972: "They're all really great, very alive. It's hard to choose. But I took two, one head, the 'straighter' head [above, and on the front page of the June 21, 2010, New York Times], though the other is well-night [sic] irresistible, and the one of Mary and me where there is a glint of hope that we may reconcile our differences."
---
JERZY POPIELUSZKO IS BEATIFIED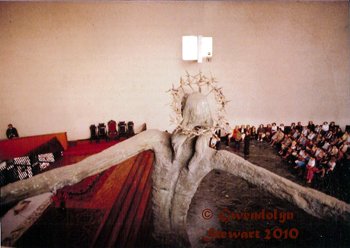 INTERIOR OF THE THEN NEW CHURCH AT NOWA HUTA, KRAKOW (CRACOW), POLAND, IN 1981, IN THE TIME OF SOLIDARITY


June 6, 2010: Father Jerzy Popieluszko, the "priest of Solidarnosc" (Solidarity), was beatified in Warsaw; he had been murdered in October 1984. An accounting and an appreciation is to be found here.
---
IN HONOR OF THE LIBERATION OF ROME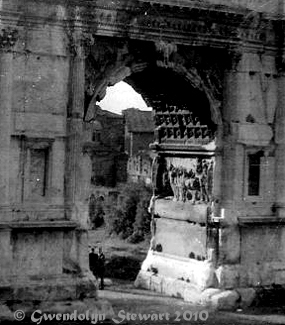 LONG AGO NOW, TWO MEN MEET BESIDE THE ARCH OF TITUS, ON THE VIA SACRA LEADING TO THE ROMAN FORUM


June 4, 2010: On June 4, 1944, Rome became the first of the Axis capitals to fall to the Allies in World War II.

The Arch of Titus is, we are told, "The oldest surviving arch in Rome"; it is also "the simplest, has only one opening, and is perhaps most well-proportioned of the arches still standing." It is the model for the Arc de Triomphe, "which maintains the exact proportions of the Arch of Titus, though several times larger." (Two academic discussions of the Arch of Titus can be foundhere and here.)

The Narva Triumphal Arch in St. Petersburg, in turn, was designed in answer to the Paris Arc de Triomphe, and in celebration of the Russian victory over Napoleon.

I ended up photographing the Roman Forum on an excursion from Germany as an Army brat in the Cold War. Who the two men were and what they were so engrossed in discussing is one of the retrospective mysteries of photography.
---
PATRIOTS & POLES & MORE PLACES TO PARK U.S. TROOPS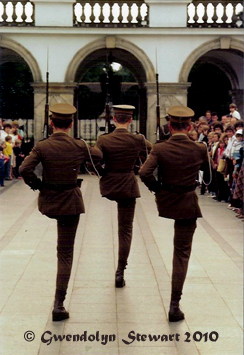 POLISH SOLDIERS PARADE AT THE TOMB OF THE UNKNOWN SOLDIER, WARSAW, POLAND, 1981


May 26, 2010: On May 26, 2010, AFP reported that Polish Defence Minister Bogdan Klich "formally welcomed the 100-strong US unit that had arrived at a Polish army base in the northern town of Morag at the weekend, and viewed the three unarmed Patriot missile launchers which Polish troops will be trained to use.

"'Your arrival here in Poland has two dimensions, political and symbolic. Politically, it's about Poland's security. And symbolically because on Polish soil, for the first time, US soldiers will be stationed long-term,' he [Klich] said." [italics added]
---
May 25, 2010: Two Hundred Posts and Counting: THE PICTURE OF THE DAY to be found here
---
BERKELEY STREET SCENE
May 9, 2010: Seen on the street in Berkeley, California: &nbsp a vignette -- and the rest of the story?
May 5, 2010: On May 5, 1955, the Federal Republic of Germany, "West Germany," was declared fully sovereign; four days later it joined NATO.
January 5, 2010: Obama aides let it be known that the president knows there is a problem.
June 1, 2009: More and more there is talk about China becoming the new giant in the automotive industry.
So, a look back to the reality on the ground, literally, just over a generation ago, in 1981 in Nanjing. Private cars were forbidden. The blue number above doubtless belonged to one official -- cadre -- or another, or more properly, to the official's work unit. Curtains in the windows encouraged privacy.
Somebody Important must have come in that car.
U.S. PRESIDENT, JANUARY 20, 1961-NOVEMBER 22, 1963
May 29, 2009: In 1981, en route to China for my first visit there, I had a chance to dash downtown to Tokyo for an hour-and-a-half, and grabbed it. I was back in the country where I lived for a year as a child (in the town of Sasebo), and where, at age eight, I had taken my first photographs. And what did I see but an image of our slain president, John Fitzgerald Kennedy, in a store front window on the Ginza -- being used to sell glasses.
Such is the power of icons and the mystery of iconography, and of cross-cultural exchanges.
May 23, 2009: Thinking Again About Communism, III. The USSR on the Eve of Perestroika: Lenin Billboard & Car, Rostov-on-the-Don (Russia), USSR. "To Us the Most Precious Is the Preservation of Peace -- V.I. Lenin," the slogan on the billboard says. The year is 1984.
The year 1989 saw the second "Springtime of Nations." In astonishment, and uncertainty, the outside world, and even the political actors within the various members of the Soviet-led Warsaw Pact, watched as events unfolded and limits were pushed.
Now, twenty years later, the fall of the Berlin Wall on November 9, 1989, serves as a stand-in for all the regime changes that year. And the violent climax of the downfall of all the Soviet-bloc regimes in Eastern Europe came on Christmas Day, in Romania, when the just-deposed former leader Nicolae Ceausescu -- and his wife -- were executed by firing squad.
But the Polish story should not be overlooked. Timothy Garton-Ash believes "to this day that the Round Table -- that is to say, the negotiated revolution -- was a particularly Polish discovery, and is in a way Poland's gift from 1989 to the world."
That summer, and into the fall, there was nervous speculation as to whether the Soviet Union would invade; it was the era of Leonid Brezhnev and the Brezhnev Doctrine ('what we have, we hold'). But in the end, on December 13, 1981, Poland's own leaders imposed martial law. Lech Walesa and other Solidarity leaders were thrown in jail.
Here is the wind-up: "Fidelity to our values is the reason why the United States of America grew from a small string of colonies under the writ of an empire to the strongest nation in the world."
Okay. Then: Enemy soldiers...strong alliances....
Then, "It's the reason why we've been able to overpower the iron fist of fascism and outlast the iron curtain of communism, and enlist free nations and free peoples everywhere in the common cause and common effort of liberty."
Oh, yes? The People's Republic of China, ruled by the Chinese Communist Party, has fallen? (and the regimes in Cuba, and North Korea, and Vietnam....)
In the fall of 2007, at the time of the most recent Chinese Communist Party Congress, I showed an American in Beijing a copy of the photograph above, taken at the previous Congress, the 16th (November 2002). He looked at the giant hammer and sickle and said, Oh, Russia.
Whatever one may think of what has happened since the fall of the Soviet Union, the Communists have not ruled there since December 1991, while in China they go on and on. So far.
*JUNE 12, 2006: June 12 is Russia's national holiday, the "Day of Russia," and this year marks fifteen years since the first Russian presidential election (won by Boris Yeltsin)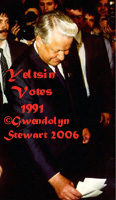 on June 12, 1991. (Boris Yeltsin casting his ballot, June 12, 1991 ) The election day was chosen to honor the declaration of sovereignty the year before by the Russian Soviet Federated Socialist Republic, as Russia was then known as one of the fifteen republics of the USSR. (For more on the story and the significance of June 12, see chapters 6-8 of Sic Transit by Gwendolyn Stewart, Harvard University Ph.D. dissertation, June 1995. For more on Boris Yeltsin, see Chapters One and Two of Russia Redux.)
Today the event was celebrated both in the Kremlin and on the street.
---
*JUNE 9, 2006: John Updike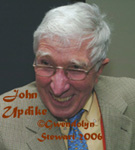 has a new book called Terrorist, which USA Today calls "a thriller," and one which "leaves the reader ripping through the book to its finale, desperate to find out what happens." (More on Updike)
---
*JUNE 8, 2006: Turn the Tide: A new way to say "turning point"? Today President Bush announced that "Zarqawi's death is a severe blow to al Qaeda. It's a victory in the global war on terror, and it is an opportunity for Iraq's new government to turn the tide of this struggle." Strange then that in giving the New York Times the tick-tock, or chronology, of the handling of the news of the "termination" of the leader of Al Qaeda in Iraq, this point was emphasized: "Officials also decided to proceed carefully and not repeat mistakes of the past by referring to the capture as a turning point or an end to violence in Iraq, which is expected to, if anything, increase in coming days." The warning about violence can easily be seen to smack of CYA, of course, but, sadly, has also already started to come true.
Philip Kennicott has a thoughtful meditation on "A Chilling Portrait, Unsuitably Framed": " The frame surrounding an image of Abu Musab al-Zarqawi's head, revealed to the world as proof the terrorist is dead, is bizarre. When the picture was displayed at a U.S. military news briefing, Zarqawi's face was seen inside what appeared to be a professional photographic mat job, with a large frame, as if it were something one might preserve and hang on the wall next to other family portraits." (more)
---
*JUNE 7, 2006: Iraq "begins to look more and more like a Terminator world." -- John F. Burns, New York Times Bureau Chief, on The Charlie Rose Show, PBS, June 7, 2006.
---
*JUNE 6, 2006: TEAR DOWN THIS HIGHWAY!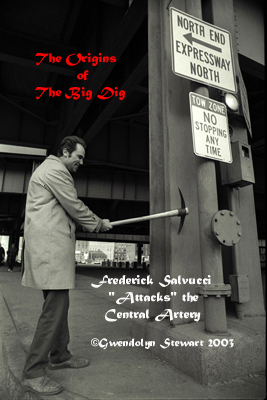 Tip O'Neill has a tunnel named after him, and Frederick Salvucci, the "Father of the Big Dig," sees his dream come true. Now, Boston, will it all be worth it in the end?
---
*JUNE 5, 2006: Tip O'Neill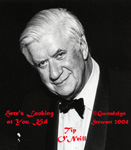 has a tunnel named after him. (More about former Speaker of the U.S. House of Representatives Thomas ["Tip"] P. O'Neill, Jr.)
---
*JUNE 4, 2006: "That's right, it's come to this, yes, it's come to this...." U.S. Secretary of Defense Donald Rumsfeld is in Vietnam today, and for what? His former senior China-Taiwan adviser Dan Blumenthal has written an op-ed in the Washington Post arguing that "A nascent defense relationship with Vietnam may over time provide the American military with what it needs most in Asia -- more bases." And against whom? (See May 11 entry) And against whom were we in Vietnam fighting a war in the first place?
---
*JUNE 1, 2006: Out of the mouth of ... unilateralists: " ... if they continue their obstinance, if they continue to say to the world, we really don't care what your opinion is, then the world is going to act in concert": George W. Bush re ... Iran, June 1, 2006.
---
NOT AN ICON?
("Liberty's Light," from a photograph by Gwendolyn Stewart c. 2009; All Rights Reserved)
Homeland Security funds for New York City are to be cut: "A worksheet made by the federal government to explain the decision, obtained by The Associated Press, said the city [of New York] had just four major financial assets at risk, and no national monuments or icons... "
---
"The book, a favourite gift in diplomatic encounters, has supplied generations of politicians and writers with a garnish of profundity, through its insights such as 'winning without fighting is the best strategy'."
*APRIL 7, 2006: The non-denial denial, as struggled through by the White House. Summarized by Time: "If a former adviser's testimony is wrong and President Bush did not authorize the leak of intelligence information to counter attacks from a critic of the Iraq war, the White House isn't saying so."
Question: When is a leak not a leak?
"'When I use a word,' Humpty Dumpty said, in rather a scornful tone, 'it means just what I choose it to mean --- neither more nor less.'
"'The question is,' said Alice, 'whether you can make words mean so many different things.'
"'The question is,' said Humpty Dumpty, 'which is to be master --- that's all.'" --- Lewis Carroll, Alice Through the Looking Glass
---
*APRIL 6, 2006: The Leaker-in-Chief? "Scooter" Libby Squeals. The document in the case, here.
---
*MARCH 21, 2006: The Legacy President & The President's Legacy: Iraq: How many more years? You can read it for yourself, here.
---
*MARCH 20, 2006: Vladimir Putin goes to Beijing and takes "800 People" with him to launch China's "Year of Russia" -- interesting analysis in the The Moscow Times. On the agenda: oil and gas and the "unipolar" (read: U.S. the only superpower) world.
---
*MARCH 19, 2006: "Landslide Lukashenko"?
Alexander Lukashenko is said to have won more than eighty percent of the vote in his run for a third term as president of Belarus.
---
*JANUARY 1, 2006: A very happy new year to all --
---
*NOVEMBER 28, 2005: When is it news that a state governor -- or in this case, a provincial governor, drinks a glass of tap water? (Boiled tap water, to be sure.) When a city of nearly four million, the city of Harbin, in Heilongjiang Province in the northeast of China, has had its water supply ruined by benzene released by an explosion in a neighboring province. Here is a photograph of that governor, Zhang Zuoji, setting the example. The Russian city of Khabarovsk waits to see what the onward flow of the river will bring it. (Map)
---
*NOVEMBER 27, 2005: The trial of Saddam Hussein is set to begin again on Monday, November 28. Now comes word that the first post-Saddam Hussein prime minister of Iraq, Iyad Allawi, is charging that human rights abuses under the new regime are as bad or worse than under the old. The charges are detailed in the British

Observer of November 27. So what is going on? Either the charges are literally true, or Allawi, described as having been "a strong ally of the US-led coalition forces," is bringing them for a reason. He lost in the last election, but is running again in December.

James Mann tells the story of the day their paths crossed in Rise of the Vulcans (New York: Viking, ©2004, p. 124): "Many years later, when Rumsfeld was questioned in Congress about his amicable 1983 meeting with Saddam Hussein, he emphasized that he had been a private citizen at the time and that his goal had been to eliminate terrorism in Lebanon. The answer was misleading. He was in Baghdad as the representative of President Reagan, and the declassified cables show he was seeking not just Iraq's help in Lebanon but broader cooperation between the United States and Iraq to offset the power of Iran and Syria in the Middle East." (More Saddam Hussein)
---
*OCTOBER 18, 2005: The man sometimes known as "the father of perestroika," and a one-time exchange student at Columbia University, Alexandr N. Yakovlev, died today in Moscow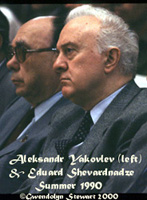 (shown here [L] with then Soviet Foreign Minister Eduard Shevardnadze; more on Yakovlev).
---
*OCTOBER 17, 2005: While there is so much focus on Bush's "Brain" and Cheney's "Scooter," let us not forget their principals, and our principles.
---
*OCTOBER 16, 2005: The Chinese spacecraft Shenzhou VI and its two-man crew have landed safely.
The fate of George W. Bush's Karl Rove and of Dick Cheney's "Scooter" Libby is still up in the air as special prosecutor Patrick Fitzgerald keeps his secret over the possible prosecution of who leaked Valerie Plame's secret. Meanwhile, the New York Times puts on its hairshirt again over the Judith Miller affair.
---
*OCTOBER 15, 2005: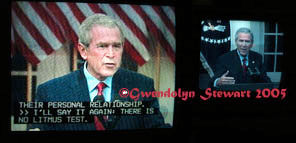 "I'll say it again: there is no litmus test."
---
*OCTOBER 14, 2005: In honor of LEONARD BERNSTEIN, gone fifteen years today: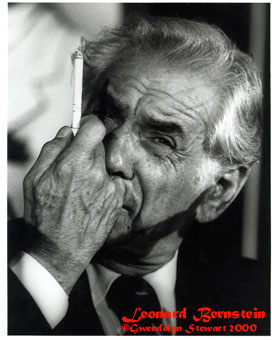 (A bit more about Bernstein)
---
*OCTOBER 13, 2005: In Russia today, trouble in another republic in the Caucasus -- Kabardino-Balkaria, home to Mt. Elbrus, the highest mountain in Europe. Armed "fighters" or "militants" or "bandits" estimated to number variously in the dozens, scores, or even hundreds carried out coordinated attacks on Nalchik, the capital.
LIST OF SUBJECTS
RUSSIA REDUX: THE YELTSIN FILES
IN THE NEWS: RUSSIAN PRESIDENT VLADIMIR PUTIN AND FIRST LADY LYUDMILA PUTIN CALL IT QUITS
LYUDMILA PUTIN hereand here; with VLADIMIR PUTIN, here and here and here
THE 18TH CONGRESS OF THE CHINESE COMMUNIST PARTY see November 2012 entries
GEORGE McGOVERN DIES
HOSNI MUBARAK (and RONALD REAGAN) here
JEROME COHEN & CHEN GUANGCHENG here
BARACK OBAMA STORYBOARDED here
RICHARD LUGAR here
MIKHAIL KHODORKOVSKY here and here, and DMITRI MEDVEDEV talking tough re KHODORKOVSKY earlier, here
B-BOYS AT THE PALACE here and here
Abdullah Ahmad Badawi Afghanistan Martii Ahtisaari APEC Arlington National Cemetery Taro Aso W.H. Auden
Leonard Bernstein Big Muddy Osama bin Laden Tony Blair George H.W. Bush George W. Bush Jimmy Carter Bill Clinton
Hillary Clinton Howard Dean John Edwards John K. Fairbank G-8 Mikhail Gorbachev Alexei Gromov Halliburton Hu Jintao Ted Hughes
Humpty Dumpty Saddam Hussein Iran Iraq Janis Joplin Katrina John F. Kennedy Robert F. Kennedy John Kerry Vladimir Lenin
Li Keqiang Luiz Inacio Lula da Silva Robert McNamara Dmitry Medvedev Angela Merkel
Boris Nemtsov Benjamin Netanyahu Richard Nixon Barack Obama Tip O'Neill Patriarch Alexy II
Peru Petrified Forest David Petraeus Poland Lyudmila Putin Vladimir Putin Ronald Reagan Condoleezza Rice
Karl Rove Tom Rush Sakhalin Santa Claus Gerhard Schroeder Anne Sexton Tony Snow Sochi Somchai Wongsawat
Statue of Liberty Supreme Court Tolkien John Updike Veterans Wen Jiabao Wu Bangguo Xi Jinping Boris Yeltsin
---
GWENDOLYN STEWART is both a photojournalist and a political scientist specializing in political leadership in Russia, China, and the U.S. A former Bunting/Radcliffe Fellow, she is an Associate (and former Post-Doctoral Fellow) of the Davis Center for Russian and Eurasian Studies at Harvard, as well as an Associate in Research of the Harvard Fairbank Center for Chinese Studies. For the Fairbank Center she co-founded and co-chairs the China Current Events Workshop, a forum for examining pressing issues in Greater China. Her Harvard Ph.D. dissertation (SIC TRANSIT) dealt with the role of the leaders of the republics, especially Boris Yeltsin, in the breakup of the Soviet Union. She is currently writing RUSSIA REDUX, the story of Russia under Yeltsin and Putin: part political analysis, part travel-memoir. Imagine wandering over the largest country on earth, not in the train of a railroad, but in the train of one of the most powerful and contradictory men on earth. Or all by yourself.
MORE PHOTOGRAPHS. MORE STORIES. MORE ABOUT THE AUTHOR-PHOTOGRAPHER.
THE BLOG HERE BE GIANTS PERU SCENES
---
COMMENTS & INQUIRIES WELCOMED:
POST TO: PICTURE POLITICS
---
© Copyright 2014 Gwendolyn Stewart. All rights reserved.