PUTIN OBSERVED
by
GWENDOLYN STEWART
PART I. YELTSIN'S CHOICE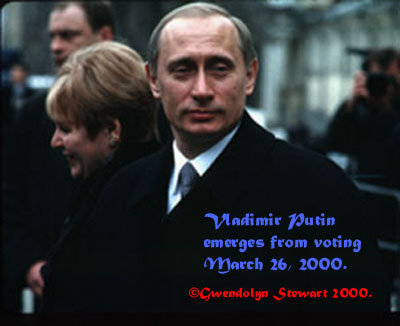 Who chose Vladimir Putin?
The assumption that Putin's rise to power was engineered by someone other than Boris Yeltsin seems to be fast hardening into orthodoxy.

Most frequently, Putin's rise is casually attributed to "The Family," or one or another group of "oligarchs," or perhaps the military.... What these versions of events have in common is the notion that Putin was forced on Yeltsin. At the extreme one can even read that some group "standing behind" the second Russian president actually removed the first president from office.

Before this received wisdom has irrevocably set our blinkers, perhaps it would be well to consider an alternative explanation.

To wit: That the main person responsible for anointing Vladimir Putin as Boris Yeltsin's successor was Boris Yeltsin himself.

This judgment is based on the decision-making rules involved, the nature of the incumbent, and evidence that the sitting president was physically up to making the decision himself.

The prerogative of nominating a prime minister of the Russian Federation constitutionally belongs to the president. Russia's first president consistently demonstrated that he valued the exercise of these kinds of prerogatives. To argue that his last prime minister was nominated under duress therefore wants proving, particularly since the president quickly raised the stakes by designating Putin as his preferred successor as well.

There might be several possible explanations: It could be argued that the political circumstances compelled him to name someone he did not prefer, as with Primakov in September 1998 and Chernomyrdin back in December 1992. But it is harder to see the hand -- or the will -- of the parliament in the choice of this endgame prime minister of Yeltsin's. Or he was blackmailed out of office; someone had something on the president that essentially precipitated his exit. The corruption scandals swirling around the Kremlin in the late summer of 1999 did seem to be approaching rather too near to his own family (with a small "f"). But this president had successfully fought off three impeachment attempts, the last one just over half a year before. He did not quit easily. The early resignation was, on the face of it, a strategic sacrifice, a typical Yeltsin castling maneuver.

There is another possibility, that Boris Yeltsin was so far weakened physically or mentally or both that he was incapable of making such a decision himself. To look at Yeltsin in the latter stages of his presidency or to read the history of his hospitalizations might well seem to make this plausible.

Evidence to the contrary comes from a member of the inner Kremlin press corps, one of the Big Feet of Russian journalism. Capping nearly a decade of constant close-up coverage throughout Yeltsin's presidency, he had three longish conversations with "Ded" -- the "Grandfather," as they had taken to calling the Russian leader -- between his resignation and the March 26th election. In an interview with me just after the election, he insisted that the former president was cogent and that his memory was "brilliant," even if his speech was slow. For example:

"We discussed the problems he had during his campaign in 1996, and I saw that he remembers everything perfectly well. He even remembers the details; when we asked him about [a conversation about former Chechen leader] Dudayev he [even] remembered that it took place in a [particular] store."

I tried to shake my source's confidence, to argue from my own observations of Yeltsin and the realities of the illnesses from which he suffered that all could not be perfectly well. The most he was willing to concede was that he might have been allowed to meet with Yeltsin only on those days when the president was at his best, but he was adamant that his best was such that Yeltsin could and did make the decision on Putin himself.

Question: Was Vladimir Vladimirovich [Putin] forced on Boris Nikolayevich [Yeltsin]?

Answer: Yeltsin himself said that it is his choice. I asked him several times about that, and he said several times that he was considering twenty people, and that it was his own choice. And during this process of consideration, [first] several people were left, and then only one was left. ... Even in the summer [of 1999] I asked him why he so often met with Putin when Putin was [merely] the secretary of the Security Council, because before that the Security Council used to be in the shadows, and he answered, "Because it is PUU-tin."

Why? The same Kremlin correspondent says that Yeltsin had decided on an early resignation in September 1999. By then the end of Yeltsin's game of musical chairs for his would-be successors was in sight. Say what you will about the supposed non-independence of the judiciary in Russia, the Constitutional Court had decreed that Boris Yeltsin was not entitled to a third term, and he was abiding by that decision. But the prospects for any possible successor from the Yeltsin stable looked bad. It seemed as though the Opposition would win for sure in the summer of 2000. So Boris Yeltsin determined to do what it was repeatedly said that he would never do, relinquish power. His choice.

The question was, relinquish power to whom? What was Putin's appeal? We have seen this striking combination of a spit-and-polish exterior and a foul mouth before, in Yeltsin's first and only vice-president, another would-be well turned-out super-macho Tough Guy, another Colonel. Putin was Rutskoi Redux, or Rutskoi Slight. Vladimir Putin has become notorious for declaring that he would rub out the bandits in the john; he called the Chechen Raduyev a beast. When conscience-of-the-nation Andrei Sakharov died, Aleksandr Rutskoi had said, "One more democrat kopyta otkinul" -- "turned up his hooves" -- a very rude, dirty expression for someone dying.

Yeltsin, who has a reputation for insisting on proper language himself, seems to have a bit of a weakness for these guys, balancing the economic liberals and "Young Reformers" who joined his team at one time or another. In real life and real politics these personal attractions can and do matter. Yeltsin himself had been helicoptered up to First Secretary back home in Sverdlovsk when he had similarly captured his boss's attention. But there were also more substantive reasons.

Yegor Gaidar at first thought Yeltsin was mad to choose Putin; then he credited him with tremendous insight into the Russian psyche for picking this "tough guy." Can it be purely coincidental that the financial collapse of August 1998 was followed by the appointment of three KGB/FSB prime ministers in a row? It had by then been nearly half a century since 1953, when Beria was the last Soviet leader to be shot; eight years since the Dzerzhinsky Monument had been torn down in the euphoria following the collapse of the August coup. The pendulum was swinging back to Order in the aftermath of laissez-faire run riot.

By the time Boris Yeltsin was casting about for his final Number Two and successor, Putin had been in Moscow, in the Kremlin and the Administration, for three years, after a high-ranking stint in St. Petersburg as Mayor Sobchak's deputy. His rise may have surprised the world at large, but he was not an unknown quantity to the president. He did have two final tests to pass in the fall of 1999: loyalty and success. Yeltsin had to feel that Putin was absolutely reliable, his "product," his creature. Because this was the first voluntary hand-off of power (Gorbachev-to-Yeltsin being the closest to it before), the rules of the game were uncertain. Yeltsin had been acutely conscious of the possible pitfalls long before August 1999. With or without charges of corruption, a post-presidential existence was tenuous without some guarantees.

Lastly, Putin had to prove that he could win -- the final guarantee. This he did in the Duma election of December 19, 1999, by bringing his brand-new party, Unity, in just barely second to the communists, and by helping carry his allies, the Union of Right Forces, in as well. This victory clinched Yeltsin's decision to retire early, to give Putin the best chance to win the presidential election itself. The new Duma made it possible for Putin to pass legislation that Yeltsin wanted to pass but could not. Putin, Yeltsin told the Kremlin correspondent, promised to continue Yeltsin's reform program, broadly conceived, especially regarding the market economy. Yeltsin's own position and the continuation of his fundamental political orientation both therefore seemed likely to be guaranteed.

Does this mean that Boris Yeltsin made the decision to designate Vladimir Putin as his last prime minister and preferred successor in a vacuum? That no one leaned on him or attempted to lean on him? That no one tried to persuade him to choose another favorite, or urged the wisdom of an early-exit strategy, or helped develop that strategy? Of course not. But it was Boris Yeltsin's choice to make, and the evidence seems compelling that it was Boris Yeltsin who made it. There was no palace coup.###
"PUTIN OBSERVED IS YELTSIN OBSERVED"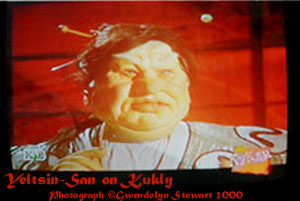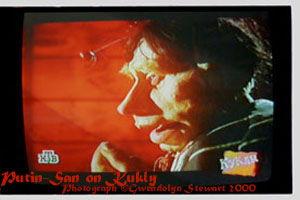 Putin-San confers with Yeltsin-San on KUKLY, the Russian television (NTV) political satire with puppets.
This is the same NTV now attacked and taken over. "CENTER">
* * * *
VLADIMIR PUTIN AND GEORGE W. BUSH "ALONE TOGETHER"
* * * *
VLADIMIR AND LYUDMILA PUTIN AWAIT THEIR GUESTS AT THE PETERHOF PALACE
* * * *
* * * *
* * * *
IN THE WORKS: A book based on the Harvard exhibit "HERE BE GIANTS,"
a quarter-century of photographs and stories of the Soviet Union, Russia, and China by Gwendolyn Stewart.
* * * *
GWENDOLYN STEWART is both a photojournalist and a political scientist specializing in political leadership in Russia, China, and the U.S. A former Bunting Fellow, she is an Associate (and former Post-Doctoral Fellow) of the Davis Center for Russian Studies at Harvard, as well as an Associate in Research of the Harvard Fairbank Center for Chinese Studies. For the Fairbank Center she co-founded and co-chairs the China Current Events Workshop, a forum for examining pressing issues in Greater China. Her Harvard Ph.D. dissertation (SicTransit) dealt with the role of the leaders of the republics, especially Boris Yeltsin, in the breakup of the Soviet Union. She is currently writing RUSSIA REDUX, a crossover book, part political analysis, part travel-memoir: Imagine wandering over the largest country on earth, not in the train of a railroad, but in the train of one of the most powerful and contradictory men on earth. Or all by yourself.
THE PICTURE OF THE DAY: THE BLOG
BILL & BORIS & VLADIMIR & GEORGE & Strobe Talbott's THE RUSSIA HAND: AMERICA'S RUSSIA POLICY
BORIS YELTSIN'S MIDNIGHT DIARIES
THE PHOENIX: YELTSIN & THE FUTURE OF RUSSIAN LEADERSHIP
THE POWER HUG
THOMAS P. O'NEILL, JR. (TIP O'NEILL)
FREDERICK SALVUCCI & THE BIG DIG
GAO XINGJIAN: CHINA'S FIRST NOBEL LAUREATE IN LITERATURE
* * * *
* * * *
www.gwendolynstewart.com
"Putin Observed" cited in Martha Brill Olcott,
" The Energy Dimension in Russian Global Strategy: Vladimir Putin and The Geopolitics of Oil"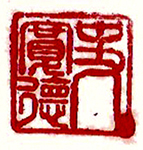 © Copyright 2014 Gwendolyn Stewart. All rights reserved.