THE BIG DIG

FREDERICK SALVUCCI "ATTACKS" THE CENTRAL ARTERY
by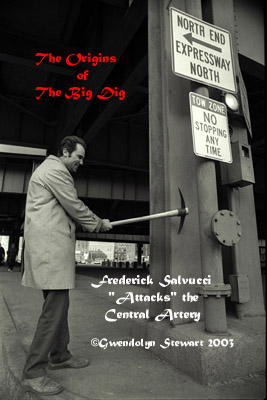 FRED SALVUCCI, WHO HELPED LAUNCH THE BIG DIG, "ATTACKING" THE CENTRAL ARTERY
Photograph by GWENDOLYN STEWART ©2013
* * * *
An exhibition of a quarter-century of the photography of Gwendolyn Stewart entitled "HERE BE GIANTS" was held at Harvard.
Coming: HERE BE GIANTS the book.
* * * *
GWENDOLYN STEWART: MORE PHOTOGRAPHS & MORE ABOUT THE PHOTOGRAPHER
THOMAS P. O'NEILL, JR. (TIP O'NEILL)
BORIS YELTSIN: Another Big Politician Who Knew That All Politics Is Local
THE PHOENIX: YELTSIN & THE FUTURE OF RUSSIAN LEADERSHIP
BILL & BORIS & VLADIMIR & GEORGE & Strobe Talbott's THE RUSSIA HAND: AMERICA'S RUSSIA POLICY
THE POWER HUG
GAO XINGJIAN: CHINA'S FIRST NOBEL LAUREATE IN LITERATURE
GWENDOLYN STEWART is both a photojournalist and a political scientist specializing in political leadership in Russia, China, and the U.S. A former Bunting/Radcliffe Fellow, she is an Associate (and former Post-Doctoral Fellow) of the Davis Center for Russian Studies and Central Eurasian Studies at Harvard, as well as an Associate in Research of the Harvard Fairbank Center for East Asian Research. For the Fairbank Center she co-founded and co-chairs the China Current Events Workshop, a monthly forum for examining pressing issues in Greater China. Her Harvard Ph.D. dissertation (Sic Transit) dealt with the role of the leaders of the republics, especially Boris Yeltsin, in the breakup of the Soviet Union. She is currently writing RUSSIA REDUX, the story of Russia under Yeltsin and Putin: part political analysis, part travel-memoir. Imagine wandering over the largest country on earth, not in the train of a railroad, but in the train of one of the most powerful and contradictory men on earth. Or all by yourself.
YOUR COMMENTS & INQUIRIES WELCOMED
PLEASE CONTACT: BigDig@gwendolynstewart.com
© Copyright 2013 Gwendolyn Stewart. All Rights Reserved.