RONALD REAGAN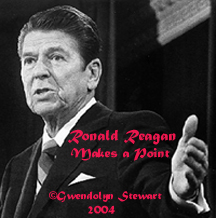 *1911-2004*

FORTIETH PRESIDENT OF THE UNITED STATES (1981-1989)
by
Gwendolyn Stewart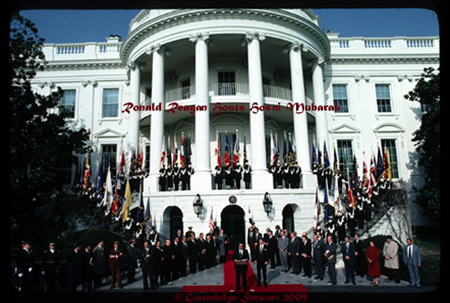 A SUNNY DAY AT RONALD REAGAN'S WHITE HOUSE
Ronald Reagan Hosts Egyptian President Hosni Mubarak
* * * *
From RUSSIA REDUX by GWENDOLYN STEWART:
That summer of 1984 was the last year of Ronald Reagan's first term, a time of a Cold War newly heated up,
before Nancy Reagan helped convince him that peace made a more useful historical legacy.
It was the summer of the Los Angeles Olympics and the Soviet tit-for-tat retaliatory boycott of those Olympics
(we had devastated the Soviets by boycotting their 1980 Moscow Olympics after the invasion of Afghanistan).
It was the summer of Ronald Reagan's 'joke' in the warm-up to a Saturday radio address,
a 'joke' declaring 'Russia' an outlaw nation and announcing that the bombs would fly in five minutes.
Ah, well, it was explained, he did not know the microphone was on.
Ronald Reagan had begun his career, half a century before, as a radio announcer.
FOR MORE:
* * * *
More on politics in PICTURE POLITICS
* * * *
* * * *
* * * *
IN THE WORKS: A book based on the Harvard exhibit of a quarter-century of the photography of Gwendolyn Stewart entitled "HERE BE GIANTS."
* * * *
GWENDOLYN STEWART is both a photojournalist and a political scientist specializing in political leadership in Russia, China, and the U.S. A former Bunting/Radcliffe Fellow, she is an Associate (and former Post-Doctoral Fellow) of the Davis Center for Russian Studies and Central Eurasian Studies at Harvard, as well as an Associate in Research of the Harvard Fairbank Center for Chinese Studies. For the Fairbank Center she co-founded and co-chairs the China Current Events Workshop, a forum for examining pressing issues in Greater China. Her Harvard Ph.D. dissertation (Sic Transit) dealt with the role of the leaders of the republics, especially Boris Yeltsin, in the breakup of the Soviet Union. She is currently writing RUSSIA REDUX, the story of Russia under Yeltsin and Putin, part political analysis, part travel-memoir. Imagine wandering over the largest country on earth, not in the train of a railroad, but in the train of one of the most powerful and contradictory men on earth. Or all by yourself.
JAMES A. BAKER LEONARD BERNSTEIN THE BIG DIG BILL BRADLEY GEORGE W. BUSH JIMMY CARTER
BILL CLINTON JOHN EDWARDS GAO XINGJIAN MIKHAIL GORBACHEV JIANG ZEMIN JANIS JOPLIN
JOHN KERRY BARACK OBAMA TIP O'NEILL &nbsp RICHARD PERLE PERU SCENES
THE PHOENIX
THE POWER HUG
VLADIMIR PUTIN THE RUSSIA HAND SAKHALIN FREDERICK SALVUCCI ANNE SEXTON JOHN UPDIKE
DAN WAKEFIELD BORIS YELTSIN YELTSIN'S MEMOIRS
GWENDOLYN STEWART: MORE PHOTOGRAPHS & MORE ABOUT THE AUTHOR/PHOTOGRAPHER



© Copyright 2014 Gwendolyn Stewart. All Rights Reserved.