JOHN UPDIKE
March 18, 1932 - January 27, 2009
Winner, PULITZER PRIZE for Fiction
1982 (RABBIT IS RICH) & 1991 (RABBIT AT REST)
by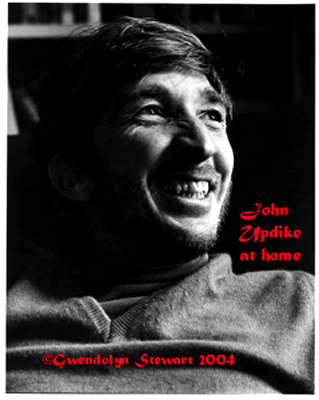 JOHN UPDIKE AT HOME, 1972
"They're all really great, very alive. It's hard to choose.
though the other [above] is well-night [sic] irresistible...."
-- John Updike in a letter to Gwendolyn Stewart, May 25, 1972, regarding photographs
from a session at his home at 50 Labor-in-Vain Road, Ipswich, Massachusetts --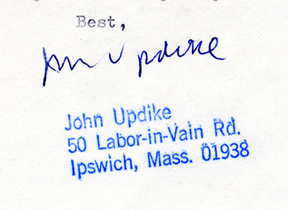 "Each of the Rabbit novels was written in a different setting -
Redux belonged to my second house in Ipswich, on the winding, winsomely named Labor-in-Vain Road,
and to my rented office downtown, above a restaurant whose noontime aromas of lunch
rose through the floor each day to urge my writing to its daily conclusion."
-- John Updike, 1995, reprinted in The Times, January 29, 2009.
Another Photograph of JOHN UPDIKE AT HOME, 1972
A Photograph of JOHN & MARY UPDIKE AT HOME, 1972
A Color Photograph of JOHN UPDIKE, 1972, Complete with the Famous Red Beard, and Some Reflections on Updike's Intimations of Mortality
Photograph of JOHN UPDIKE on the Front Page of the New York Times, June 21, 2010 -- Updike's Favorite from this Session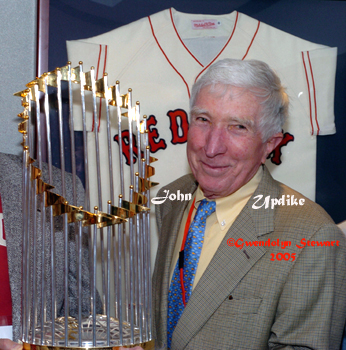 John Updike with the Boston Red Sox World Series Trophy, Fenway Park, 2005
Photographs c. GWENDOLYN STEWART 2013. All Rights Reserved.
"I broke my foot so I grew a beard," John Updike had said in 1972. "A red beard," he reminded me,
when we met again on June 6, 2005, at the PEN New England "Writing Baseball" Evening at Fenway Park.
"Fenway Park, in Boston, is a lyric little bandbox of a ballpark. Everything is painted green
and seems in curiously sharp focus, like the inside of an old-fashioned peeping-type Easter egg."
-- from Updike's "Hub Fans Bid Kid Adieu"; more:
"The affair between Boston and Ted Williams was no mere summer romance....
Though we thumped, wept, and chanted 'We want Ted' for minutes after he
hid in the dugout, he did not come back. ... Gods do not answer letters."
* * * *

RECOMMENDED: Anthony Quinn article in THE TELEGRAPH ("A Dirty Young Man Comes of Age")
An interesting profile (in spite of the lame title), based partially on observation and interviewing, which traces back through Updike's history (including "the worst thing that he had done in his life") and announces his newest novel, VILLAGES (Knopf, October 2004), described by the Washington Post as "A coming-of-age story in which women -- many, many of them -- are a young man's defining teachers."
* * * *
GWENDOLYN STEWART is both a photojournalist and a political scientist specializing in political leadership in Russia, China, and the U.S. A former Bunting/Radcliffe Fellow, she is an Associate (and former Post-Doctoral Fellow) of the Davis Center for Russian Studies and Central Eurasian Studies at Harvard, as well as an Associate in Research of the Harvard Fairbank Center for Chinese Studies. For the Fairbank Center she co-founded and co-chairs the China Current Events Workshop, a forum for examining pressing issues in Greater China. Her Harvard Ph.D. dissertation (Sic Transit) dealt with the role of the leaders of the republics, especially Boris Yeltsin, in the breakup of the Soviet Union. She is currently writing RUSSIA REDUX , the story of Russia under Yeltsin and Putin: part political analysis, part travel-memoir. Imagine wandering over the largest country on earth, not in the train of a railroad, but in the train of one of the most powerful and contradictory men on earth. Or all by yourself.
* * * *
GWENDOLYN STEWART: MORE PHOTOGRAPHS & MORE ABOUT THE PHOTOGRAPHER
* * * *
* * * *
* * * *
* * * *
JAMES A. BAKER LEONARD BERNSTEIN THE BIG DIG BILL BRADLEY GEORGE W. BUSH
BILL CLINTON GAO XINGJIAN MIKHAIL GORBACHEV HU JINTAO TED HUGHES JIANG ZEMIN JANIS JOPLIN
BARACK OBAMA TIP O'NEILL RICHARD PERLE PERU THE PHOENIX THE POWER HUG
VLADIMIR PUTIN RONALD REAGAN THE RUSSIA HAND SAKHALIN FREDERICK SALVUCCI
ANNE SEXTON DAN WAKEFIELD BORIS YELTSIN YELTSIN'S MIDNIGHT DIARIES
* * * *
An exhibition of a quarter-century of the photography of Gwendolyn Stewart entitled "HERE BE GIANTS" was held at Harvard.
Coming: HERE BE GIANTS The Book.
GWENDOLYN STEWART: MORE PHOTOGRAPHS & MORE ABOUT THE AUTHOR/PHOTOGRAPHER
YOUR COMMENTS & INQUIRIES WELCOMED
PLEASE CONTACT: GWENDOLYN STEWART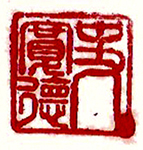 © Copyright 2021 Gwendolyn Stewart. All Rights Reserved.