Obamapol
BARACK OBAMA
by
Gwendolyn Stewart
RIFFS ON A THEME"center">
by"center">
A Citizen of Obamapolis"center">
* * * *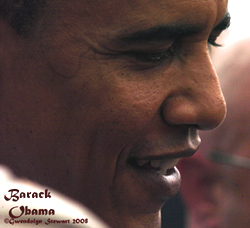 ROCK STAR, ROCK STAR: WHO WANTS A ROCK STAR AS PRESIDENT?
What is going on? Is this a new-fangled way of saying X has "charisma"?"center">
And by the way, was Pope John Paul II the first non-rock star of whom it was said that he was greeted/treated like a rock star?"center">
* * * *
BECAUSE WE CAN? OBAMA AND THE NSA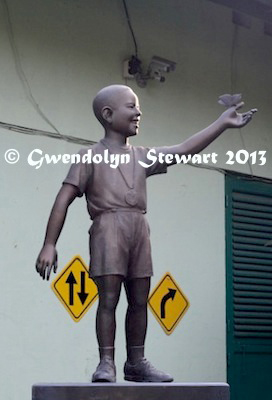 STATUE OF THE BOY BARACK OBAMA ("BARRY SUTORO"), JAKARTA, INDONESIA
November 1, 2013: The statue of Barack (Barry) Obama as a boy at one of his elementary schools in Jakarta, Indonesia, has a butterfly perched on his left hand and a surveillance camera above his head. (To be continued)
THE GREAT COMMUNICATOR?
Or, whoever has the best teleprompter system wins?
* * * *
ON THE JOB?
Off on another trip again.
Will the person who used to keep track of how many days of his presidency
George W. Bush spent away from the White House on vacation
now keep a count of how many days Barack Obama spends away from the White House?
* * * *
YOUTHINESS CAN BE OVERRATED. (For more on this point, see PICTURE POLITICS, March 5, 2009.)
Russian President DMITRY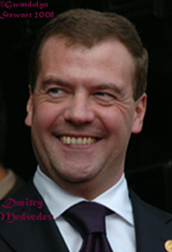 MEDVEDEV
has BARACK OBAMA beat in the "young leader" stakes by more than four years.
* * * *
*FEBRUARY 19, 2009: Barack Obama makes his first international trip as president to Canada today (unlike George W. Bush, who made a big point about going to Mexico first). His host will be Prime Minister Stephen Harper.
The president, however, while giving pride of place to the U.S.'s biggest trading partner, will reportedly not be staying to supper.
*FEBRUARY 12, 2009: Barack Obama and that Lincoln thing: When does someone who is at least a semi-grownup give up dressing up in the trappings of some heroic figure? Even if that heroic figure be Abraham Lincoln. Or perhaps, especially if it be Abraham Lincoln.
*JANUARY 20, 2009: Why such a strident tone to the Inaugural Address? To the new President's reading of it?
*JANUARY 18, 2009: "Slip Slidin' Away"?
What it seems GEORGE W. BUSH may be doing under the Obama administration. With a little help from his friend? Or at least, his new buddy in the Presidents' Club?
*JANUARY 17, 2009: "Hello, I must be going."
*JUNE 27 2008: KISS & MAKE UP?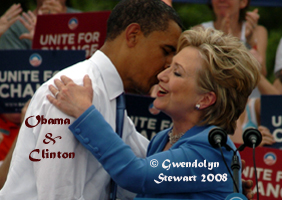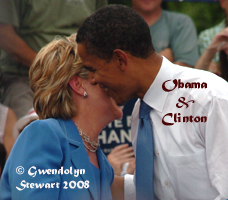 BARACK OBAMA and HILLARY CLINTON

fly to a field of dreams of UNITY (New Hampshire).


GWENDOLYN STEWART: MORE PHOTOGRAPHS & MORE ABOUT THE PHOTOGRAPHER

JAMES A. BAKER LEONARD BERNSTEIN THE BIG DIG BILL BRADLEY GEORGE W. BUSH

BILL CLINTON GAO XINGJIAN MIKHAIL GORBACHEV HU JINTAO JIANG ZEMIN

JANIS JOPLIN TIP O'NEILL &nbsp RICHARD PERLE THE PHOENIX THE POWER HUG

VLADIMIR PUTIN RONALD REAGAN THE RUSSIA HAND SAKHALIN FREDERICK SALVUCCI

ANNE SEXTON JOHN UPDIKE DAN WAKEFIELD BORIS YELTSIN YELTSIN'S MIDNIGHT DIARIES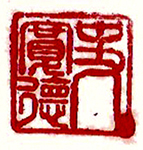 © Copyright 2014 Gwendolyn Stewart. All Rights Reserved.